Discover The Log Cabin Lifestyle
Log homes are simply spectacular—and we're not just saying that because we love to make them. They call out to you to enjoy them and appreciate their craftsmanship. The warmth of the wood adds coziness to the overall home and creates an environment you never want to leave.
Log homes offer an instant connection with nature thanks to the organic nature of the materials used. They are a unique way for a house to blend with the surrounding area. It is much easier for a log home to become an integral part of the landscape and become part of something much greater.
Now, and thanks to our Log Cabin Kits, it is easier than ever to enjoy your very own log home!
Make Your Log Home Dream a Reality
Log homes come in a variety of styles, shapes, textures, and designs. Our log cabin kits are fully customizable and can be adjusted to your family's needs, land, and preferences. You can add porches, balconies, and other architectural and practical elements to enhance your home.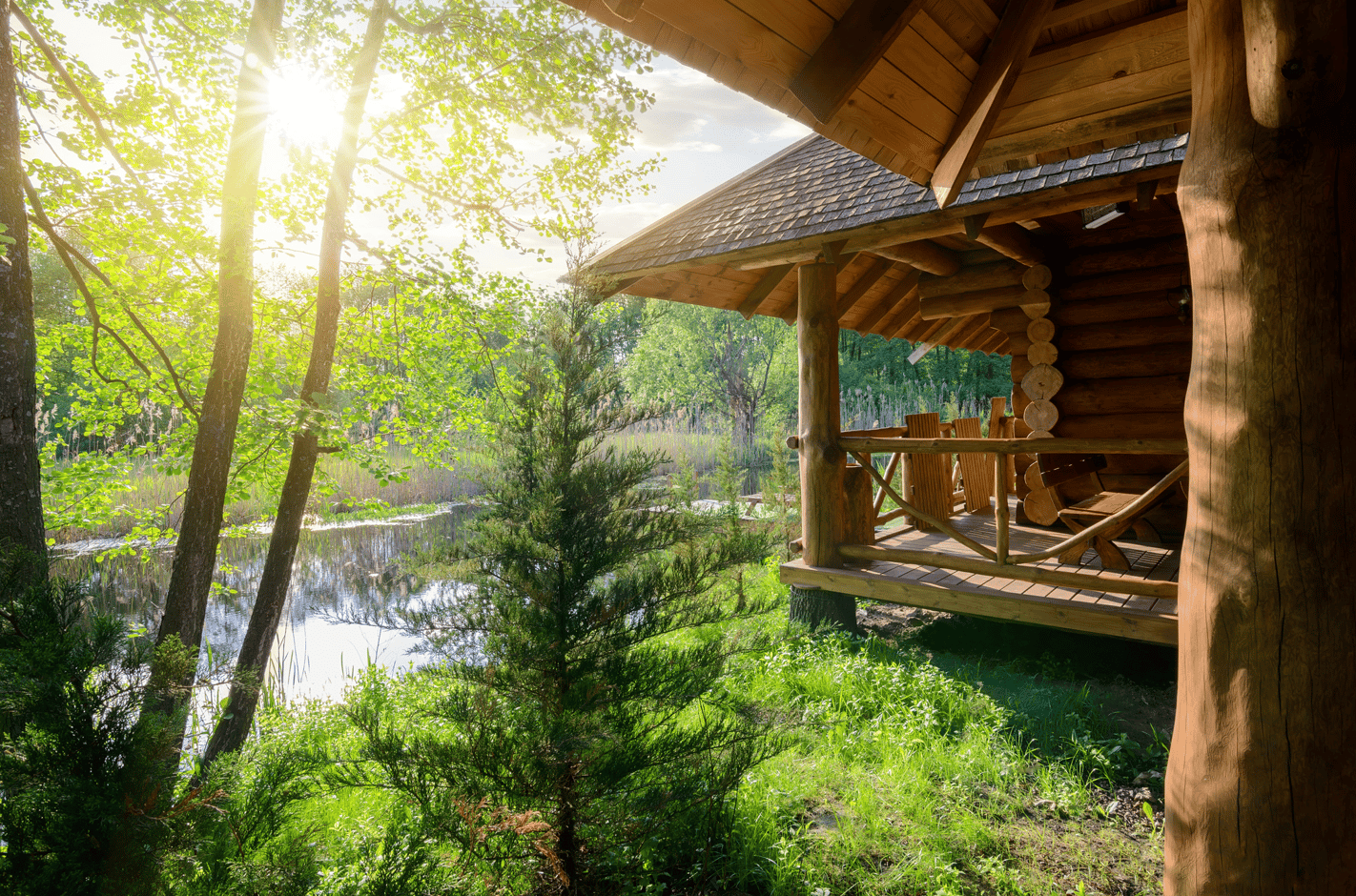 A Home with a Unique Look
Large home developments tend to be bland and uniform. Your log home, however, will be as unique as you.
There are so many different plans, looks, and designs to choose from that no two log homes are similar. Log sizes and additions are so numerous that you can be sure that your log home will stand out and be exactly what you were looking for. Think of porches, wraparound porches, balconies, floors, and different roof styles that can differentiate your log home and add character and personality.
A Home Built to Last
When you choose a log home, you are investing in a robust home that will be part of your family for generations. Thanks to our sturdy logs and the craftsmanship with which we assemble our log homes, your home will last for decades, letting your children and grandchildren enjoy it as much as you do. Consider it an heirloom that will be passed down to the next generation.
Log homes display astonishing durability because they are built out of logs, without voids in-between. For centuries, log homes have been shown to withstand the elements, even in the harshest of conditions.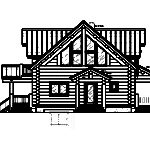 Drafting
Your custom log Cabin kit is built using the floor plans that you and our drafting department have finalized.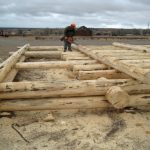 Log Fabrication
We begin the process of peeling, cutting, and handcrafting the logs into your log home at our yard.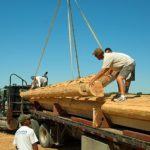 Delivery to Build Site
We deliver the logs to your building site.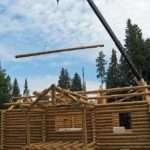 On Site Assembly
Our experienced crew will reassemble the logs on your foundation/subfloor in a surprisingly short amount of time.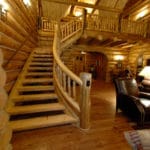 Log Components
We can provide your home with log window and door bucks, log stairs, and log railings.
What are the benefits of a Log Cabin Kit?
Here at Frontier Log Homes, we specialize in log home construction and have developed log cabin kits to help you build your log home in no time. Our log home kit includes all the logs you will need for the walls and roof structure.
With your log shell ready, you can then choose a local crew to finish your log home construction with the windows, doors, and other extras you want. A log cabin kit gives you all the freedom you need to mix and match elements and customize your home exactly as you choose. Use any local builders you want to and work with your local carpenters, plumbers, or electricians to finish your home while helping your community.
A log cabin kit also gives you the opportunity to be personally involved in the building of your home. If you enjoy building, sanding, and investing yourself in your home, then a log cabin kit gives you plenty of opportunities to step in and take the initiative.
Your home design can integrate drywall, paint, timber, round logs, tile, stone, and more for your very own, unique look and feel. Use our log cabin kit as a blank sheet to create a home that accurately represents you. You will have peace of mind knowing that the shell of your home is sturdy and impeccable thanks to Frontier Log Homes' excellent craftsmanship and quality logs.
What's Included in a Log Cabin Kit?
Our log cabin kits include the logs for walls and roof structures, the freight to your building site, and on-site assembly by our professionals. They also include the log bucks you'll need to frame out your doors, windows, log stairs, and railings.
Your log home shell will be built according to the highest standards and with excellent materials. Our expert professionals will make sure that all logs are placed and connected properly. We build handcrafted, chink-style homes using only dry logs and allow the wood to compress naturally over the first year. This means you will have no settling problems or drywall cracks.
We pride ourselves on our art and wood mastery as well as our attention to detail.
Why Frontier Log Homes?
Log Craftsmen with Experience
Our building crews and craftsmen have built hundreds of log homes. We have the experience and know-how to produce log cabin kits at exact measurements. Our professionals will assemble them with perfection to ensure all logs fit perfectly with each other.
We have been building log homes for more than 40 years and have shipped our log cabin kits throughout the United States. We know how well our log homes perform and how sturdy they are.
Plenty of Floor Plans to Choose from
Our designers have drawn floor plans for all tastes and preferences. Choose from small log cabins of under 1500 sq. feet to large ones of over 3500 sq. feet. Depending on your family's needs, plot size, and budget, we will find the floor plan that best matches your expectations.
Our home design experts will guide you through our floor plans to help you pick the right one for you. You can always customize the chosen floor plan to adjust it perfectly to your needs.
We Stand by You Even after Construction
When we build a log home, we make a commitment to you. Even when your home has been built, we are here to provide guidance and assistance should you have any questions regarding maintenance or anything else about your home.
Our blueprints guide you through construction but also help you better understand how your log home functions and performs.
Handcrafted Expertise
Here at Frontier Log Homes, we don't mass-produce log homes. We take the time to apply our experience to handcrafting your home in our assembly yard before shipping it to your property.
All steps of the process are supervised by our experienced carpenters, log specialists, and designers. The end result is a log home that displays astonishing wood artistry and optimal organic living—as attested by our awards. This is what makes us the industry leaders.
Choose from our wide variety of handcrafted log home cabin kits, available in many designs, shapes, and footage. Contact Frontier Log Homes online, visit us at 60813 Maple Grove Road, Montrose, CO 81403, or call now 970-249-7130 to start working on your dream log home!
How long will it take to complete the kit?
We handcraft the log kit in our yard. The logs are all numbered and labeled before loading onto flatbed trailers and then delivered to your building site. Depending on the size of the log cabin kit you have selected to build, times vary between 1 – 13 weeks.
What is included?
The cabin kit includes all the structural logs necessary to build your home. These may include log walls, log ceiling beams, log trusses, log gables, log purlins and log posts. No other building materials are included in the cabin kit other than the logs.
How much does it cost?
Each project is unique, and cost depends on many variables that change over time, such as the current cost of logs, labor costs, and many others. Please call 970-249-7130 for a current estimate.
How is shipping calculated?
The shipping is a separate cost. It is determined by the number of logs in the kit and the mileage to your building site from our yard.
Assembly On Your Building Site
Frontier Log Homes can send our skilled crew and a crane to your site and assemble the cabin kit on your foundation. Your General Contractor can then take over the finishing work for your cabin.
While we are on site providing these services, our crew can consult with your builder about any questions that they may have regarding log construction.
If you prefer, Frontier Log Homes can send only a consulting supervisor to your building site. In this option, the labor and crane will be the responsibility of the owner or General Contractor and our supervisor will be on-site to provide instruction.
Are you looking for custom log work for your home?
Frontier Log Homes can provide custom log components for your log cabin kit.
Looking for a General Contractor or already have one?
Who do I hire to manage and complete my project?
Frontier Log Homes offers General Contracting services limited to the western slope of Colorado. We can also help you select your general contractor from a list of qualified Colorado contractors whom we have worked with in the past.
Outside of Colorado, we recommend that your chosen general contractor visit our location and meet with our staff so we can give instruction on procedure and proper log building technique. We strongly recommend that your general contractor consult with us on proper methods to ensure the best completion of your project.
Peace of Mind
Nationwide we offer consultation throughout your entire project to assure that your contractor fully understands proper completion technique and procedure.